2015.10.14
[Updates]
Press Conference Announcement : Harada and Kiki bring their magic to the Japan Now section!
A press conference was held today to highlight the Tokyo International Film Festival (TIFF)'s new section, JAPAN NOW, with a screening of Masato HARADA's jidaigeki (samurai period drama) film, "Kakekomi," following the event at the Foreign Correspondents' Club of Japan (FCCJ) today, on October 9.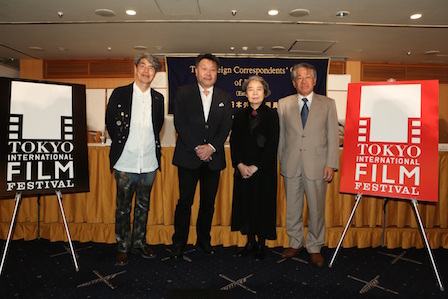 ©2015 TIFF

Following a welcoming address from Yasushi SHIINA, Director General of TIFF, Kohei ANDO, Programing Advisor introduced JAPAN NOW, a new section devoted to outstanding Japanese directors, offering special screenings of their films to boost their recognition with TIFF audiences. Masato Harada, the first notable Director in Focus of this new section, and his muse and legendary actress Kirin KIKI were welcomed as special guests at the press conference.
During the 10 days of TIFF, more than 200 films will be screened and there will be daily film-related events at the festival venues with stage appearances, QA sessions and symposia featuring celebrated guests from around the world.

click here for Lineup and guests info for JAPAN NOW
Lineup for JAPAN NOW

≪Notes and Quotes from the Press Conference≫
Yasushi SHIINA, Director General of TIFF
This is my third year as head of TIFF. This year's focus is how to introduce Japanese films to overseas. So our newly launched Japan Now and Japan Classic sections will help to reach new audiences. There are over 500 films released in Japan every year. We especially hope that international audiences who come to TIFF will see and enjoy these films, and help us bring Japanese directors to the world through our film festival.

Kohei ANDO, Programing Advisor of JAPAN NOW Section
People say if you see three movies from a certain country, you can tell a lot about the country. We selected 11 films for the Japan Now section, which we felt express diverse aspects of today's Japan. There are two movies by Yoji YAMADA and Hirokazu KORE-EDA which focus on the Japanese family, and you can see the diversity of Japanese families. Among the 11 films, we have one director who stands out and his work deserves to be brought overseas. That's Mr. Harada. Through Japan Now, we would also like to introduce his brilliance not only to the world, but also we want to reintroduce it to the Japanese audience.

Masato HARADA, Director
I am very honored to be selected as the focus of the Japan Now section this year. I am not sure if I am not sure if I should be the focus of Japan Now, or if I should be in Japan Classics. (Laughs)
But it is an honor to be here. It's been 22 years since I attended TIFF with "Painted Dessert". I am so happy to bring my work back here again.

Kirin KIKI, Actress
Mr. Harada always has a big smile on his face when he talks about scenes from classic movies. He is a very enthusiastic film lover. I think this is his charm as a director. In his work, he strives to be even better than these masters. Sometimes he succeeds, sometimes he fails. But he's very skilled. He's just a great, great director.

Q&A with the audience
Q:Which do you prefer, acting or directing?
A:Of course, directing. Because I don't have to memorize the lines.
I remember I was panicking in "Last Samurai" when the director changed my dialogue the day before
shooting and I had been doing that to my actors. I realized that I should really stop doing that, but it only lasted a year.

Q:What is your next project going to be together with Ms. Kiki?
A: I do have something in my mind but just can't officially announce it yet. I'm thinking about a
story which features a historical figure that nobody would expect Ms. Kiki to play.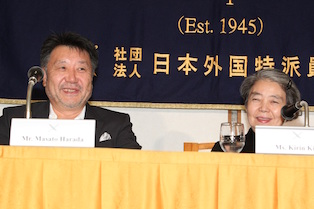 ©2015 TIFF

Writer-director MASATO HARADA is highly acclaimed for a range of award-winning films, as well as his roles as villains in Hollywood blockbusters "The Last Samurai" and "Fearless." Among his most well-known works are "Kamikaze Taxi" (1995), "Bounce Ko Gals" (1997), "Jubaku – Spellbound" (1998), "Climber's High" (2008) and "Chronicle of My Mother" (2012). His early-summer release "Kakekomi" and his late-summer "The Emperor in August" have both been box-office hits, as well as being heralded at international festivals.

KIRIN KIKI made a name for herself with many uniquely comedic and eccentric roles on TV, but she slipped into legend when she began anchoring films by Japan's masters. Her role in Hirokazu Kore-eda's 2008 "Still Walking" won her a Best Supporting Actress award at Japan's Oscars, and she also received a Best Actress award for Joji Matsuoka's 2008 "Tokyo Tower – Mom and Me, and Sometimes Dad." For Kiki's first collaboration with Masato Harada, "Chronicle of My Mother," she received the Japan Academy Award for Best Actress.