2015.09.15
[Updates]
The 28th Tokyo International Film Festival is planning a special feature entitled "Masters of J-Horror" (Japanese Horror) !
The 28th Tokyo International Film Festival (TIFF) will take place from October 22 to 31. This year, TIFF will have a special feature entitled "Masters of J-Horror" (Japanese Horror) screening chilling works of the three most influential directors in the J-Horror genre, Hideo Nakata, Takashi Shimizu, and Kiyoshi Kurosawa on October 28, through the night. These three directors are considered to be the original sparks who ignited the highly esteemed and internationally regarded J-Horror boom. TIFF is on a J-Horror trajectory this year!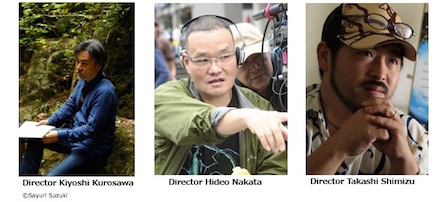 The J-Horror genre has swept the world, and even Hollywood has paid tribute to it with remakes of great J-Horror movies such as Ring and One Missed Call. More than twenty years has passed since the J-Horror boom began, and 2015 marks the twentieth anniversary of the release of the legendary horror movie Don't Look Up (Directed by Hideo Nakata).

The J-Horror genre continues to exert a great influence on directors around the world. In addition
to screening an all-night horror fest, a panel session with special guest talk will also be held.

BIOGRAPHY
◆Hideo Nakata
Director of Ghost Theater (2015). Internationally acclaimed for his groundbreaking films Ringu (1998) and Dark Water (2002), his latest marks a return to the approach that terrified audience worldwide and made "J-horror" a household word. With The Complex (2013), he again raises the bar by interweaving character and social concerns, reconfirming his position as the leading creator of cinematic terror

◆Takashi Shimizu
Born in 1972. Works for Shaiker. Studied drama at university, worked as an assistant director before directorial debut in 1998. The Juon series starting as V-Cinema in 1999 became a big hit. Directed the Hollywood remake version The Grudge (2004), which made the No. 1 box-office hit in U.S. Works in a wide range of films such as comedy, SF and thriller with a focus on horror. Kiki's delivery Service (2014) is one of his recent films.

■Kiyoshi Kurosawa
He got many invitations from overseas film festivals and global fame with this film. Pulse (2000) won the FIPRESCI Prize at 54th Cannes Film Festival. Bright Future (2002) was officially invited to 56th Cannes Competition section. Retribution (2006) was invited for the first time to Venice Film Festival to be highly praised. The latest Journey to the Shore (2015) won the Best Director Prize in Un Certain Regard at 68th Cannes.

FILMS
Don't Look Up Nakata Hideo(1996)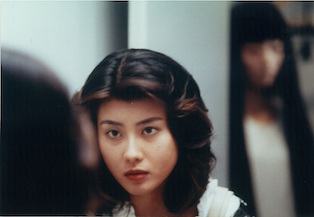 ©1995 WOWOW/BANDAI VISUAL
©KADOKAWA 1997
©JU-ON Film Partners

Ghost Theater Hideo Nakata(2015)

©2015 "Gekijorei" Film Partners

The 28th Tokyo International Film Festival screening tickets will be on sale from October 10 on ticket board!