2015.10.25
[Event Reports]
Chinese media stampede for Sola Aoi's red carpet appearance! Haruka Shimazaki greets fans with a smile
The 28th Tokyo International Film Festival opened on October 22 in Roppongi Hills, Tokyo. The opening ceremony was all glitz and glamor, and the red carpet prepared for the venue was graced by gorgeous guests from all over the world. From the Asian Future section we saw sexy actress Sola Aoi from Lazy Hazy Crazy, with costars Kwok Yik Sum, Fish Liew, and Mak Tsz Yi.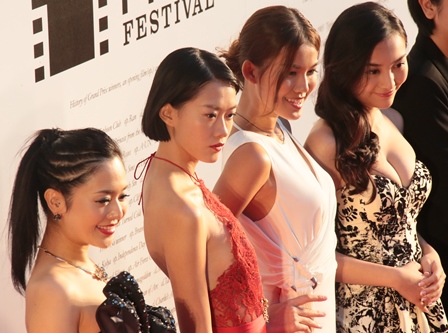 ©2015 TIFF

The film depicts a world of teenage love, jealousy and betrayal in an intimate and erotic manner through the daily lives of young women earning a living through escorting older men. Aoi made her appearance in a plunging black mini-dress. She is enormously popular in China, and worshiped as "Laoshi Sora" ("laoshi" meaning "teacher") and "the goddess", which caused the sudden rush of Chinese media on the red carpet.

"Being able to walk the red carpet is an honor, which makes me a little nervous", said Aoi, with a smile. This was her second time on the red carpet, following the Bucheon International Fantastic Film Festival in South Korea. When Aoi appeared close to the main stage the Chinese media rushed in to ask questions, showing just how popular she was.

The lead actor in Ghost Theater which will premier in the special event "Masters of J-Horror" Haruka Shimazaki, as well as the director Hideo Nakata, also made an appearance. Shimazaki has been nicknamed "Shio-taiou" (the cold shoulder) because of the rather cold attitude she showed towards her fans in the idol group AKB48, but as she walked down the red carpet fans called out for her signature by her nickname "Paruru", and she gladly obliged. There was one tense moment in which it looked like some of the frills on her dress might get ripped as she reached out to take a piece of paper from a fan, but she remained unruffled.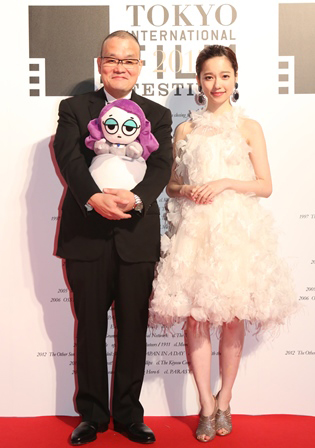 ©2015 TIFF

The 28th Tokyo International Film Festival will run until the 31st of this month. The main venues are Roppongi Hills, Shinjuku Wald9, Shinjuku Piccadilly, and TOHO CINEMAS Shinjuku. There are some new sections- Panorama, Japan Now, and Japanese Classics, in addition to existing six sections Competition, Special Screenings, Asian Future, World Focus, Japanese Cinema Splash, and CROSSCUT ASIA, as well as Allied Events. More than 200 films from Japan and abroad will be screened during the festival, and there will be plenty of appearances from actors and guests throughout, including greetings from the stage and teach-in events.

The news provided by eiga.com