2015.10.24
[Event Reports]
10/23 Q&A WORLD FOCUS "To the Fore" by Dir. Dante Lam
"To the Fore" Q &A session took place on Oct 23, 2015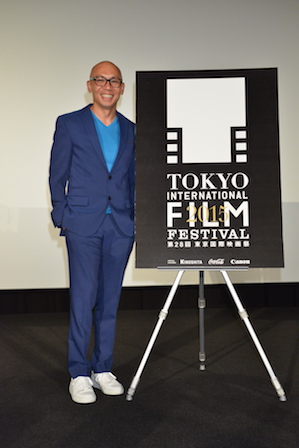 ©2015 TIFF

Dante Lam (Director/Screenplay)

Q:Have you experienced cycling in road race yourself?

Dir. Dante Lam:I love cycling. I have been thinking of making a cycling film since 2001 but I didn't have the chance as the sport films are rare in Hong Kong. As a matter of fact, To the Fore has a strong relation with Unbeatable because the film received positive responses two years ago, I eventually managed to make the film that I have been longing for.

Q:The film contained a lot of exciting scenes, how did you manage to shoot such a ground –skimming shot?

Dir. Dante Lam:The preparation was very tough. I have been making films for 20 years and I am especially familiar with making of action films. However, To the Fore made me look like a rookie again as there were so many things that I didn't even know how to handle. I can say this is the most difficult filmmaking experience in my career. I have done whatever it takes and kept moving forward to complete to film.

Q:There were 3 handsome men in your film. Can you tell us something about your casts?

Dir. Dante Lam:I would like to mention Eddie Peng. We worked together two years ago in Unbeatable and I realized that To the Fore needed actors with strong resolution and willpower who can do whatever it takes just for the film. I talked to Eddie and told him that without his participation, I had no confidence to continue for the actor needed not only the acting skills but also an expression of resolution and courage.

The other two cast members were required as the films involved a few international road race competitions. I also emphasized on the challenges in the film so they could l prepare themselves thoroughly.

Q:What was appealing about Eddie Peng that made you cast him for three times?

Dir. Dante Lam:Eddie Peng is an actor with resolution and he spent half a year to train his cycling skills. Comparing to Unbeatable, the style between boxing and cycling is totally different as the set for a boxing film is mainly in the stage. For To the Fore, we had to go on the road for up to 4 to 5 kilometers for each shot. The training for Eddie therefore was almost the same as a professional cyclist. I think his charm comes from his dedication and courage in every role.

By the way, Eddie rode about 120,000 kilometers in the film.

Q:You have dealt with heroes who have strong complexes. What was the reason for the change this time?

Dir. Dante Lam:The theme of Unbeatable is about how a middle-aged man faces his middle age crisis and reclaims his glory. After Unbeatable, I had a strong passion to make a film about teenagers pushing up their limits and overcoming their boundaries, dedicating for the team yet upholding one's belief.

Q:Was there an actual model which inspired you to create character in your film?

Dir. Dante Lam:When I was doing the research for the film, I have talked to some of the coaches and cyclists. As you may know, Hong Kong cyclists have splendid achievements worldwide, there are a few cyclists that I truly admire. Actually, some characters in the film were created based on the story inspired from professional cyclists

For instant, the relationship between the coach and one of the characters in the film was based on the true story of a champion cyclist in Hong Kong. What happened to the girl was also a true event took place in an international competition. She had an accident and broke her ribs, yet, she managed to continue with the race and finished at second place. I was deeply amazed and moved each time when I watched the video.

Q:I am excited to see such a masterpiece. Can you give us your insight on music and your composer Henry Lai?

Dir. Dante Lam:Whenever I start to make a film, I look for music beforehand. If the music suits the theme of the film, I will keep listening to it while I am shooting it. For Unbeatable, I used Sound of Silence as the main theme.

Henry Lai is a person with "fighting spirit". We quarreled every time when we worked together. After we finished Unbeatable two years ago, I had a strong feeling of not working with him ever again in the future. But actually we enjoyed the process once we looked at the final creation.

For To the Fore, we spent much more amount of time on the music as cycling race is very different from boxing. Actions and movements in boxing can effectively boost the emotion of the audience but cycling is considered relatively "steady", even though the speed is fast. So the music plays a very essential part. Moreover, there were various races involved in the film and as it became more difficult we had to use different music to express the particular emotion in each race. Henry Lai also successfully exceeded his limits by accomplishing such a tough task.

I am now making a film in Thailand and Malaysia and luckily I got the time to come to Japan for two days as a break. I am always looking forward to riding a bike in Japan.