2015.10.22
[Event Reports]
10/22 Q&A CROSSCUT ASIA Imbisibol by Dir. Lawrence Fajardo
The Imbisibol Q&A session took place on Oct 22, 2015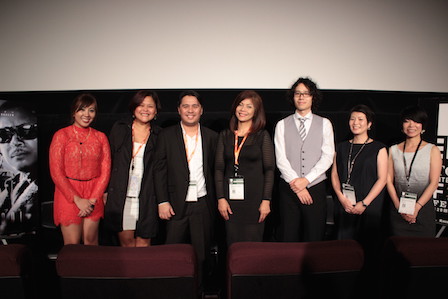 ©2015 TIFF

Lawrence Fajardo (Director/Screenplay/Original Story/Editor), Krisma Maclang Fajardo (Producer), Herlyn Alegre(Screenplay/Original Story), Oyee Barro(Actress)
Associate Producers from Fukuoka: Yuko Ezaki and Kei Yamaki
Associate Producers from Asahikawa: Akira Hatsusegawa

Can you very briefly tell us how this film came about?

Lawrence Fajardo:I first went to Fukuoka in 2012. I thought of shooting the film here. A year later I met Herlyn and we came up with the story of Invisible. The original script was a stage play and we played it at the cultural center at Philippines. Another year later, Herlyn and I decided to make it into a film and submitted our script of Invisible to the producer, Brillante Ma Mendoza. Another year later, we were making film in Hokkaido and Fukuoka.

Climate must have been very different from Philippines. Can you tell us any stories of hardship?

Lawrence Fajardo:Yes, it was first time for me to be in place like Hokkaido. The shooting was tough but we really enjoyed it as the people there and Producer Akira Hatsusegawa was helpful and took care of everything.

I scouted for locations in November on my own and later on Akira showed us the places and I thought it was the perfect place for the script.

We also considered Tokyo as one of the locations as well but we couldn't afford it But Tokyo was the place where story took placed in the original play. We realized that Tokyo is too modern for our film which was set in the 90s.

Were the actors the Filipinos who have lived in or had an experience in Japan?

Krisma Maclang Fajardo:The five main actors were all from the Philippines and Bernado Bernardo and Ces Quesada also played in the theatre production. Akira is from Fukuoka and the other casts were mostly local talents from there.

Lawrence Fajardo:All our major characters are very famous in the Philippines, Bernardo Bernardo and Ces Quesada possess 30 years of acting experience. JM De Guzman and Allen Dizon are very famous actors in the television.

Film was in Japanese and Tagalog but was the stage play also in bilingual?

Herlyn Alegre:The original script of the stage play was in English. However, before it was staged, it was translated into Tagalog with some Japanese phrases.

Lawrence Fajardo:Of course the actors and actress had to learn Japanese as well. Ces Quesada was memorizing the dialogue over and over again.

Are the main characters based on the existing characters?

Herlyn Alegre:Actually the characters were not based on anyone in particular but they were based from extensive research such as documentaries, biographies and books written and done by undocumented Filipino migrants in Japan.

And we had also done field works and interviews with people who really work in Japan about all their experience so we could present the characters as real as possible.

What was the reason why you set the time during 90's?

Herlyn Alegre:We set the film in the late 90s because it was major part of labor migration history between Philippines and Japan. When it was in 1992, a highest influx was recorded with about 200,000 to 300,000 migrants include all nationalities.