2015.10.08
[Updates]
Special Souvenir for All Attendees of The World of Gundam: Filmstrip from "Mobile Suit Gundam," "Mobile Suit Gundam II: Soldiers of Sorrow" and "Mobile Suit Gundam III: Encounters in Space" !
Tokyo International Film Festival (TIFF) is pleased to announce that we will be giving unique souvenirs to all attendees of The World of Gundam: strips of actual 35mm film, with 5 frames each, from the movies "Mobile Suit Gundam," "Mobile Suit Gundam II: Soldiers of Sorrow" and "Mobile Suit Gundam III: Encounters in Space."

Each attendee will receive this special souvenir, so don't miss The World of Gundam!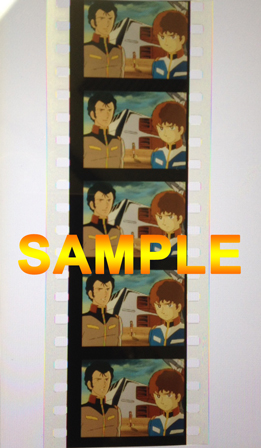 ● One strip per attendee.
● Strips from specific films or scenes cannot be specified.
● No exchanges.





Tickets Primary Sale from 12:00on October 10th!
Tickets Secondary Sale from 10:00on October 20th!