2015.10.03
[Updates]
Tickets on sale now! Special Night at Kabukiza Theatre to be Held Again This Year! Akira Kurosawa's Kabuki-to-film adaptation, "They Who Step on the Tiger's Tail" to be screened!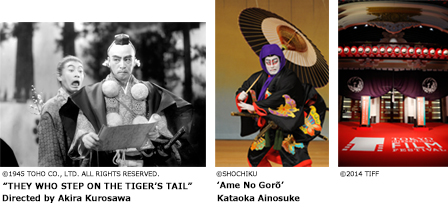 Ticket Information

The 28th Tokyo International Film Festival will be held from October 22 to 31 this year. In 2014, a new alternative event—Special Night Event at Kabukiza Theatre —was held, and this highly acclaimed event will take place again this year on October 26. This year's event will feature a new 35mm print with English subtitles of "They Who Step on the Tiger's Tail", which was shoot and filmed before World War II by the great master Akira Kurosawa. The film is an adaptation of Kabuki Juhachibam (Eighteen Best Kabuki Plays) 'Kanjincho' (The Subscription List)'. As a special treat, renowned Kabuki actor Kataoka Ainosuke will appear on stage for performance.

Akira Kurosawa adapted Kabuki play 'Kanjincho' for the big screen and completed it as "They Who Step on the Tiger's Tail" in 1945 after the war. Japanese censors claimed that the film ridiculed 'Kanjincho', and the very existence of the film was kept hidden for seven long years. GHQ—which believed that Kabuki exalted feudal morality—prohibited the showing of many works, including "They Who Step on the Tiger's Tail", thinking they would hinder the postwar democratization of Japan. This created a moment of crisis for the existence of Kabuki in Japan. The ban on the showing of "They Who Step on the Tiger's Tail", and ultimately Kabuki's crisis, was finally lifted in part by a group of GHQ officers who understood that art supersedes politics. The deliverance of these traditional works is a tribute to these people's efforts to protect this ideal.

Before the screening of the movie, Kataoka Ainosuke, active in not just Kabuki but also television, film, and theater, will appear in the Kabuki performance 'Ame no Gorõ (Gorõ in the rain)'. This performance is rich with bewitching dialogue and full of exciting fight scenes. The performance, which includes dancing, the richness of the kabuki genre, the Kumadori makeup, and the beautifully picturesque Nihon Buyo, will be enjoyed by everyone, even those who have never seen a Kabuki play before. Seventy years after the end of the war, this event of Japan's world-renowned Kabuki performance and Akira Kurosawa's masterpiece screening at the Kabukiza Theatre will be a night to remember and celebrate for national and international art devotees for whom art transcends international boundaries.

We hope art devotees will enjoy this Special Night Event at the Kabukiza Theatre, featuring Kataoka Ainosuke's Kabuki performance of 'Ame no Gorõ (Gorõ in the rain)' and Akira Kurosawa's "They Who Step on the Tiger's Tail".
Tickets for this event will go on sale on October 3.

Kataoka Ainosuke (Kabuki actor)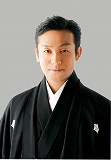 In December 1981, Kataoka Ainosuke became an apprentice of Kataoka Nizaemon XIII and debuted as a sword-bearer in the play of 'Kanjincho' (The Subscription List)' at the Minamiza Theatre in Kyoto, under the name of Kataoka Chiyomaru. In January 1992, he was adopted by Kataoka Hidetaro, and in addition to playing Suruga Jiro in 'Kanjincho' (The Subscription List)', he took on the stage name Kataoka Ainosuke VI.

Kabuki Performance 'Ame no Gorõ (Gorõ in the rain)'
'Ame no Gorõ' is based on the historical story of Soga brothers, Jurõ and Gorõ who avenged their death of their father after 18 years hardship. Gorõ is one of the classic roles of bombastic, "Aragoto" style of acting. Also he is a man blessed with flamboyance and the thriving, vigorous appearance of a wild young man with sex appeal. Even in a rainy day, Gorõ travels to visit his lover, the top courtesan, in Kewaizaka pleasure quarters of Kamakura. This popular play features fascinating oral recitations, energetic fight scenes, and other exciting action. (Produced by Shochiku)

Film : "THEY WHO STEP ON THE TIGER'S TAIL"
They Who Step on the Tiger's Tail was produced in August of 1945, at the end of the pacific War, when the whole Japan was still in a state of confusion. The picture is woven with dramatical performance palyed by Denjiro Okochi and Susumu Fujita as its warp, and a comical character played by Kenichi Enomoto as its weft.
WRITTEN and DIRECTOR:Akira Kurosawa (1945 / 58min. / TOHO)

Special Bento Meal Box
This year, one of the amusement of this event is a meal box containing an exceptional selection of delicacies. This meal box tradition has been popular with Kabuki aficionados since the Edo period.

≪Ticket Information≫
■DATE: October 26 (Mon)
■PROGRAM: Kabuki Performance 'Ame no Goro', Film Screening "THEY WHO STEP ON THE TIGER'S TAIL" directed by Akira Kurosawa
■Phone/Online reservation will start from 10:00 am on Oct. 3
■Admission with Special Bento Meal Box: ¥ 10,000 (tax included)
[Reservation]
◆Ticket Phone Shochiku (10:00 – 18:00)
+81(0)570-000-489 (Navi-Dial) or +81(0)3-6745-0888 / +81(0)6-6530-0333
Notes: Sales and ticket claim at the theater will be available from 10:00 am on Oct. 5.
Please be careful to dial the correct number.
◆Ticket Web Shochiku (at all hours except Oct. 3)
www1.ticket-web-shochiku.com/en
◆Ticket Board
Online Reservation
portal.tickebo.jp
Get a ticket board membership though your mobile phone, smartphone or PC. 24 hours a day
※ticket board information center:TEL 0570-006-506(PHS/IPphone:0986-46-2672)
Out of service on Sunday, Monday, and public holidays. Available all day during TIFF.