2015.03.26
[Updates]
Winners of 9th Asian Film Awards
The 9th annual Asian Film Awards (AFA) announced the winners and presented the Excellence in Asian Cinema Award to Japanese actress Miki NAKATANI at the AFA Ceremony on March 25, 2015 (Wed). The award ceremony was taken place at the Venetian Theatre of the Venetian Macao by the Asian Film Awards Academy (AFAA) consisting of three major international film festivals in Asia, the Tokyo International Film Festival (TIFF), the Busan International Film Festival and the Hong Kong International Film Festival.

Chizuru IKEWAKI from Japan won the Best Supporting Actress Award for her role in "The Light Shines Only There" and express her happiness on the stage.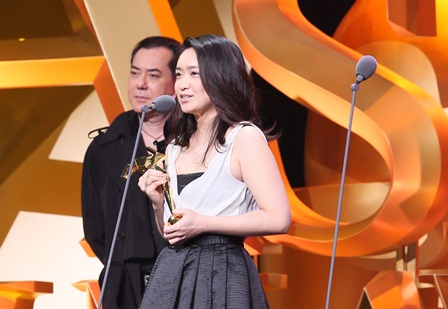 Chizuru IKEWAKI's Speech:
I wasn't expecting to achieve such a grand award as this, so I am utterly stunned. "The Light Shines Only There" is a Japanese film that was made with an extremely limited budget and extremely limited number of people, but with a great deal of care. This tiny, tiny film could not have made its way to such a grand stage as this without the help of my costars, the crew, all of the parties involved in this film, and those who have expressed their love of this film, and for that, I extend my heartfelt gratitude. I shall treasure this. Thank you very much.

Miki NAKATANI came up on the stage to receive the trophy from the founding members of AFAA, Dr. Wilfred Wong Ying-Wai, Chairman of AFAA, Mr. Yasushi Shiina, Director General of TIFF and Mr. Lee Yong-kwan, Director of the Busan International Film Festival, and deliver a speech.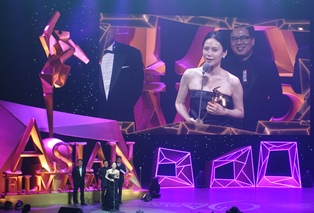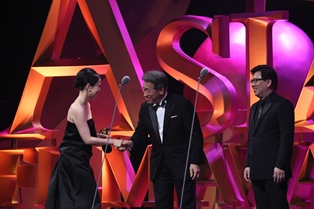 Miki NAKATANI's Speech:
(Thank you in Cantonese, Japanese, mandarin, Korean)…great appreciation.
Due to the growing diversity of entertainment, the reality surrounding the movie business has become more difficult every year. However, I would like to keep participating in creating movies, as I believe that there are still some messages, many messages we are able to convey through movies. Last but not least, let me take this opportunity to express my hope that between the nations which have politically strained relations, we can actually come to a better understanding of each other through the shared language of film.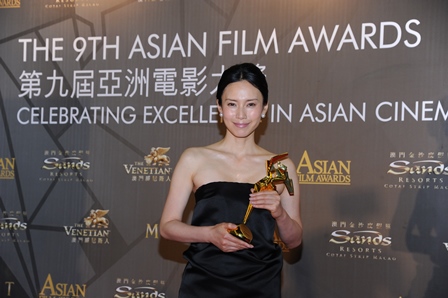 Best Actress nominee Rie MIYAZAWA and other actors, actresses and performers also came up on the stage as Celebrity presenters and livened up the atmosphere of the ceremony.

Rie MIYAZAWA and Aaron Kwok

The 9th AFA appreciated all the participants from all over Asia, congratulated the winners of this year and completed with great success.

Here are the awards results:
Best Film: Blind Massage (China) Dir: Lou Ye
Best Director: Ann Hui for "The Golden Era" (Hong Kong / China)
Best Actor: Liao Fan in "Black Coal, Thin Ice" (China)
Best Actress: Bae Doo-na in "A Girl At My Door" (South Korea)
Best Newcomer: Zhang Huiwen "Coming Home" (China)
Best Supporting Actor: Wang Zhiwen in "The Golden Era" (Hong Kong / China)
Best Supporting Actress: Chizuru IKEWAKI in "The Light Shines Only There" (Japan)
Best Screenwriter: Diao Yinan for "Black Coal, Thin Ice" (China)
Best Cinematographer: Zeng Jian for "Blind Massage" (China)
Best Production Designer: Liu Qing for "Gone With The Bullets" (China)
Best Composer: Mikey McCleary for "Margarita, with a Straw" (India)
Best Editor: Gareth Evans for "The Raid 2: Berandal" (Indonesia)
Best Visual Effects: Rick Sander and Christoph Zollinger for "Gone With The Bullets" (China)
Excellence in Asian Cinema Award: Miki Nakatani (Japan)
Lifetime Achievement Award: Im Kwon-taek (South Korea)

Nominees from Japan:
Best Film: The Light Shines Only There
Best Director: Shinya TSUKAMOTO (Fires On The Plain)
Best Actor: Takeru SATOH (Rurouni Kenshin: The Legend Ends)
Best Actress: Rie MIYAZAWA (Pale Moon)
Best Newcomer: Hiroomi TOSAKA (Hot Road)
Best Supporting Actor: Hideaki ITO (WOOD JOB!)
Best Supporting Actress: Chizuru IKEWAKI (The Light Shines Only There), Haru KUROKI (The Little House)
Best Screenwriter: Ryo TAKADA (The Light Shines Only There)
Best Cinematographer: Ryuto KONDO (My Man)
Best Production Designer: Yuji HAYASHIDA and Eri SAKUSHIMA (Over Your Dead Body)
Best Composer: BCDMG (Tokyo Tribe)
Best Editor: Hiroshi SUNAGA (One Third)
Best Visual Effects: Takashi YAMAZAKI (Parasyte)

ASIAN FILM AWARDS (AFA)Official Site