2015.11.10
[Event Reports]
10/30 [Q&A] Japanese Cinema Splash – "Tokyo Sunrise" by Ryutaro Nakagawa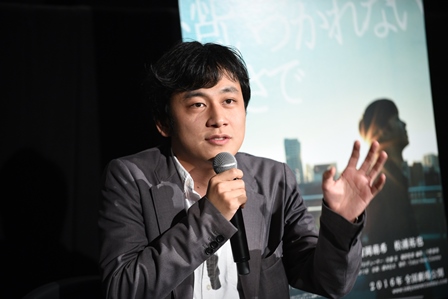 ©2015 TIFF

"Tokyo Sunrise" Q&A session took place on Oct 30, 2015

Ryutaro Nakagawa (Director / Screenplay)

Facilitator: We had an honor to present your "August in Tokyo" at our festival last year and right at the time when we were premiering your film you were already in the production of this feature. I had a chance to see the film in less than a year and was impressed with how grander the scale of the film has become. I remember thinking, I must invite this film to our program as well.

Q: Could you tell us why you casted Taiga for this role?

Ryutaro Nakagawa: Last year when I was making my first feature film, "August in Tokyo" with Sosuke Ikematsu who recommended the names of two talented actor and actress for my next film. First one being Eriko Nakamura and the other was Taiga. Since I already had the chance to work with Eriko who made a notable performance in "August in Tokyo", I decided to work with Taiga for this film.

Q: Could you tell us how you decided to work with Ryuji Kobayashi?

Ryutaro Nakagawa: All the casting efforts were happening around the same time. There were multiple numbers of projects that I was planning which he was going to be a part of it. But unfortunately it all fell through. That was why I wanted to work with him for this film.

Q: How much of the completed film was autobiographical and how much was expanded and dramatized for the film?

Ryutaro Nakagawa: Since I was scared of heights I would never try jumping from such a high place. The hang gliding scene was dramatized. I could say that most of what is depicted in the film was fictional. But the sentiments in some parts of the film, for instant, the relationship with his friend and his ex-girlfriend, these situation all came from my life experience.

Q: As Mr. Kobayashi mentioned earlier in the stage greeting the project was first conceived when your friend was still alive. I would like to know what the initial concept of the film was. Also there is a line that comes up often in the dialogue which says 'To run faster than despair can catch up with you' which is a translation of the Japanese title and yet the English title is called "Tokyo Sunrise". What accounts for the difference?

Ryutaro Nakagawa: The initial concept of the film was we were actually graduating from university right at the time when we were thinking about this project. So what I wanted to do was to portray my friends, that wasn't so much about myself. It was an ensemble film. The title of that time was 'The Newest Sunrise in the World'.

Although it was used in the different context the Japanese title was originally a phrase that my friend who passed away told me all the time. Since he used to say the phrase in English, I translated it back into Japanese which reads 'To run faster than despair can catch up with you' in English. The essence of making this film was encapsulated in this title. I discussed with our executive producer Mr. Kinouchi about what the English title should be and his thought was that the direct translation of the Japanese title wasn't easy to remember, it's much more appealing to have"Tokyo Sunrise" as the English title.

Q: You haven't revealed to us the reason why he committed the suicide in the very last day before the main character decided to end his life. Was it your deliberate decision to keep it as a mystery to the audience?

Ryutaro Nakagawa: When we were born I believe that the birth of a human life is always a very public thing where as dying is very private. So I felt the contrast. Because it is such a private thing, when I portrayed suicide I thought not to explain everything would be a more elegant approach to it. The other reason was that the subject was very close to me and I honestly didn't know why he killed himself. So I thought if I tried to explain and portray that would be an injustice to my friend. Finally the suicide in other parts of the world typically happen from poverty or various social issues. But what happens in Japan is different, yet this film wasn't trying to explain it. I think the phenomena of suicide in Japan should be explored in a lot of films in Japan.

Q: The drawing that Taiga finds in the Japanese inn looks so cheerful that I questioned whether it would be plausible that somebody would draw that right before dying. Did it happen like that in the real life? Why did the despair catch up with him? As you have mentioned before were you trying to imply that suicide was not that simple?

Ryutaro Nakagawa: This is embarrassing to admit but the picture was actually drawn over and over by many different people. I had a difficult time in figuring out what the approach should be. What I realized is that initially I was trying to make a film about him but I realized that it was impossible in the process of writing the script. I discussed everything with the actors, Taiga and Ryuji Kobayashi and felt that I needed to create something that would comfort me. I didn't think that in reality a person who is going to commit a suicide would be capable to draw something that is so cheerful. But the truth was that last time I saw my friend he was a cheerful person, at least it seemed that way. Now that I think about the film, even though the Japanese title is "To run faster than despair can catch up with you", my film isn't running in fact it ends just before it begins to run. I wanted to encourage that.

Q: As a good screenwriter you have to write something about what you know and you have indeed done that in this one film. Do you think you've used up that one film held in reserve for success? How would you develop the new projects and bring something back to the festival again?

Ryutaro Nakagawa: Personally I don't think that this film was that particular film about myself. There were lots of embarrassing things that happened in real life which I didn't put into my film. I made the film in a much prettier way to improve the quality. I do think that there were lots of experiences that I should have put into the film that I didn't. So I would like to address those issues in my future films. As for what I really want to do, I want to make films as entertaining as anime films by Mamoru Hosada or Hayao Miyazaki, however in lower budget. This is one of the goals that I have. I will be back!

Q: I found that you were trimming the dialogue down quite a bit and wondered if you will make a feature film with no dialogue in future?

Ryutaro Nakagawa: The first film that I made that was screened in the theater had no dialogues. My mentor told me that film without dialogue is very symbolic in its own term and that is not something that I want to do. In the future, I don't think I will ever make a film with zero dialogue again. I did trim down the dialogue in this film. There were no solid reasons but in a way I trusted the actor with their performances.

Q: I was moved very much with Taiga's performance, especially with the scene where he ate and cried at the same time. Could you tell us something about that scene?

Ryutaro Nakagawa: First of all Taiga is a fantastic actor. The day before we shot that scene he didn't eat and concentrated in acting the character. This was Ken Takakura style of acting. He is usually a very cheerful person but he really embodied the character. When I saw his performance I was so moved that I was in tears. It was the first time I cried watching my own film. Secondly, the grandfather who feeds him is actually my own grandfather in real life. His Ibaraki accent is so thick that I couldn't give him any lines. I hate to say in front of the audience but he is already 90 years old and he doesn't have too much longer to live. Since this film deals with the subject of death, I really wanted to see what happens if I put him in the film. Initially I tried casting different people in that role and the character was supposed to be a pilot from the air force. But eventually I wanted to have that actor to be somebody who meant something to me. Hopefully that would add some surprising elements to that scene.