2015.11.10
[Event Reports]
Director Shinya Tsukamoto emphasizes his intentions of "FIRES ON THE PLAIN"—'We cannot allow denial of the history of our war'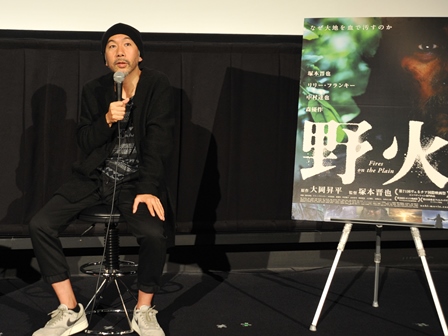 ©2015 TIFF

Director Shinya Tsukamoto's new film FIRES ON THE PLAIN was screened October 27 as part of the 28th Tokyo International Film Festival's Japan Now section. Tsukamoto, who both directs and stars in the film, appeared at Tokyo's Shinjuku Piccadilly for a Q & A session.
The film is Tsukamoto's independently produced adaptation of Shohei Ooka's novel which depicts the heroic struggle of Japanese soldiers who are abandoned on the Philippine island of Leyte during the final stages of World War II.
Tsukamoto said that, from production through distribution "There wasn't a time when I wasn't struggling." He recalled, "Around when I turned 30, I began buckling down on preparations for the film, but for financial reasons, it just didn't happen." He decided to independently produce the film under harsh circumstances because "I began to get the urgent sense that the tides of time were changing and it was becoming imprudent to create this kind of film." From a realistic perspective, he said "You can't just wait for the money to come. If I had postponed it any longer, it would have been even more difficult to create. There might have been an even smaller audience for the film." "That's why I had to take the challenge and hit that tide.", he explained.
The film was selected as a symbol of modern Japan. This year marked the 70th anniversary of the end of World War II and in light of the enactment of Japan's new security-related laws in September, many people had begun considering the meaning of the war once more. "No one talks about our history as perpetrators of war." Tsukamoto pointed out. He revealed that "While making the film, even in the interviews which I did 10 years ago, the interviewees would talk to the point where I could almost grasp what generally happened, but they just wouldn't say (that they ate human flesh)." He said "Many of those who experienced war would consider their experiences as something that shouldn't be spoken about. They had a will to shut their mouth and keep it closed to the grave.' In the end, those kinds of terrible things went on but they've consigned it into oblivion as if nothing ever happened. I can't help but feeling that the past is being ignored and Japan is gradually edging towards the war now."
Tsukamoto said strongly "As perpetrators of war, we cannot allow Japan to make it seem like the history never happened." He then turned to the audience and continued, "I cannot force open a mouth that's been closed. I made this film so that people like us can speak out as one of the truths: There was a time in history when the Japanese were perpetrators in the war. On memorial day, I tell people 'History of this kind happens.'"


The news provided by eiga.com