2015.11.04
[Event Reports]
Philippines booming with diversity and independent young directors thanks to digital cinema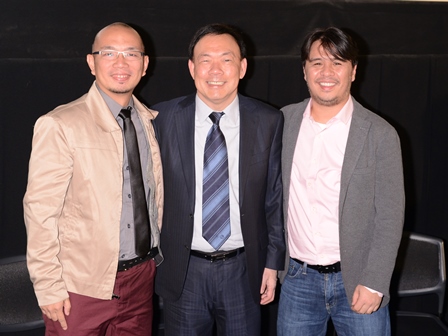 ©2015 TIFF

As part of The Japan Foundation Asia Center's "CROSSCUT ASIA #02: The Heat of Philippine Cinema" section, a symposium called "Young Filipino filmmakers: What is the Third Golden Age of Philippine cinema?" was held on October 26 at the 28th Tokyo International Film Festival. Invisible director Lawrence Fajardo and Balut Country director Paul Sta. Ana attended the event together with Wilson Tieng, CEO of major distribution company Solar Entertainment Corporation, and executive producer of both films. The group discussed the increasing regional and distributional diversity in Philippine Cinema, as well as the rise of independent directors in the age of digital filmmaking.
The third "Golden Age" of Philippine cinema began in 2005, with the announcement of "young master" Brillante Ma Mendoza's directorial debut film Masahista (The Masseur), and inauguration of The Cinemalaya Philippine Independent Film Festival. Now in the 10th year of this golden age, young directors are able to raise production funds for their films through film festival awards and subsidies, as well as private investment.
Paul Sta. Ana, who began his career as a scriptwriter, explained, "Thanks to the debut of digital cinema, we've been able to make films with lower production costs. This has created an environment where young directors can produce experimental and artistic works." Tieng, who this year organised the first Sinag Maynila Film Festival together with director Mendoza, illustrated how the indie scene is heating up by revealing that they had already received over 100 entries for next year's festival.
Although there are a large number of Tagalog-language films set in metropolitan Manila even in mainstream cinema, thanks to the influence digital filmmaking, production has branched out and into local areas. In recent years, there has been a trend towards films with more regional flavor. Director Fajardo, who is from the Visayan Islands, told of screening his short film Kultado as part of the first Cinemalaya Independent Film Festival. Because the film uses regional dialect Hiligaynon, "It was shown with subtitles, making it almost like a foreign film," he joked. But from the fact that the film took home the Special Jury Prize, the growth of interest in regional culture can be seen. Tieng said that at this year's Sinag Maynila festival there were five entries from different regional areas, emphasizing the importance of variety in the current age of cinema.
Despite the fact that the Philippine market used to be ruled by Hollywood movies, in the past three or four years there has been an increase in domestic films, said Tieng, explaining the remarkable influence of digital filmmaking and the rise of independent films. He cited an example of a film by a new director that received no investment from a studio, but became a record-setting hit thanks to the power of social networking sites. He also said that the diversification of viewing options, including Video on-demand and online television by net-streaming, has contributed to boosting industry revenue.
The news provided by eiga.com