2015.10.31
[Event Reports]
A tearful Ryoko Nakano recalls Ken Takakura at the time of her marriage announcement: 'He sent me an enormous bundle of bright red roses'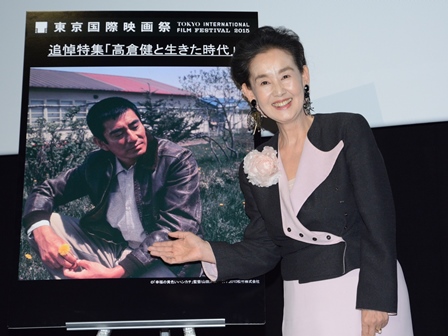 ©2015 TIFF

As part of the 28th Tokyo International Film Festival's "Ken Takakura and His Era: Commemorative Screening", the 1978 film Proof of Wildness was screened on October 26. Ryoko Nakano who co-starred in this film as well as Hot Pursuit (1976) has made an appearance to present the film.

Nakano reminisced about her first time meeting with Takakura on the set of HOT PURSUIT. "We were on-location in the banquet hall of the inn and as soon as our eyes met, we couldn't move. The producer came and stood between us making introductions several times but for a moment, the atmosphere was as if we were not in the real world." She fathomed that "Perhaps it was because I was introduced as Ryoko Nakano to play the heroin. Ken knew we would be working together so he was suddenly transported from reality into his character." She continued with emotions that "At any rate we couldn't move for a few minutes. I'd never felt anything like that before and never since. It's one of my seven wonders."

As she recalled her relationship with Takakura, she spoke tearfully. "After I had announced that I got married, he sent me an enormous bundle of bright red roses at around seven o'clock in the morning." Time draws nearer to the one-year anniversary of his death on November 10. She said tenderly, "I think from this point on, Ken will continue to live in our hearts. Time keeps passing since he's gone away but in my own heart my thoughts of him continue to grow."

HOT PURSUIT was the first foreign film to be screened in China after the Cultural Revolution and it captivated eight hundred million viewers. "I didn't understand at the time why everyone in China liked the film so much," Nakano said. "But when I did my research, I realised that Chinese society at that time matched the film exactly." She spoke with enthusiasm, "Society was in a state where reality could become just like a film. It certainly fit the minds of the people at that time. Being able to closely identify with the story filled people with the burning feeling that 'We can do our best, let's work together.' It's a film that gave energy to the Chinese people as they built their nation."

Proof of Wildness was directed by Junya Sato who also created Proof of the Man and is the film version of Seiichi Morimura's novel of the same name. The story tells us about a man who was trained with unprecedented killing techniques by the state authority who witnesses a massacre of villagers and coincidentally encounters a sole survivor: a little girl.
The film follows the pair as the man attempts to restore his humanity and reclaim his life. The 28th Tokyo International Film Festival runs until October 31.