2015.10.30
[Event Reports]
Mie on Shuji Terayama's "Labyrinth in the Field": 'It's vivid and poetic'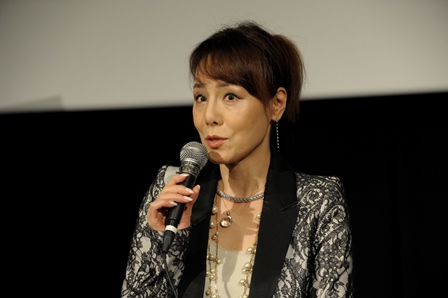 ©2015 TIFF

To commemorate the 80th anniversary of the birth of Shuji Terayama, his 1979 film Labyrinth in the Field was screened on October 24th at TOHO CINEMAS Shinjuku as part of the 28th Tokyo International Film Festival's TERAYAMA FILMS special selection. Singer and a TV personality Mie hosted a talk show after the screening.

Mie said she unfortunately never met the multi-talented Terayama before his death in 1983, but became fascinated by the poet and director when she participated in the stage production of Terayama's Our Age Comes Riding On a Circus Elephant in 1984 on the one year anniversary of his death. She said of the experience, "I had no idea a world like that existed—it was a culture shock. It was a world I had gone through life never knowing before then, and it made an enormous impact on me."

Since then she has participated in other productions by Terayama, such as his stage adaptation of children's story The Little Prince, and his musical Treasure Island. On October 12th Mie made a guest appearance at the Letters to the Nether World—Terayama Shuji 80th Anniversary Music Festival, proving that she has not only inherited the world of Terayama, but has become an essential part of it.

Labyrinth in the Field, which was produced by a french investment and selected in the Competition Section of the Cannes International Film Festival, follows a young man who walks the line between dreams and reality in search of lyrics to a song beloved by his deceased mother. For the anniversary screening, the original negatives were brought from France and digitized cut-by-cut by Tatsuo Suzuki, the original cinematographer.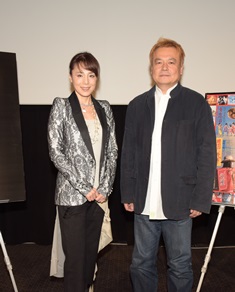 ©2015 TIFF
Although Mie had seen the film on DVD before, this was her first time viewing it on the big screen. "It's really different, isn't it? It's vibrant and poetic, and the use of red is really symbolic. The monochrome contrast was really clear, too.", she was amazed. As a resident of Terayama's world, Mie vows to carry on his legacy. "Teruyama's vision was just so broad that he's a really difficult person to imagine. But I got the impression that he was showing us what it's like to watch someone die, and dig down into grief."


The news provided by eiga.com